At LeadDev Berlin, we are excited to present a series of dynamic networking activities designed to facilitate meaningful connections within our vibrant community.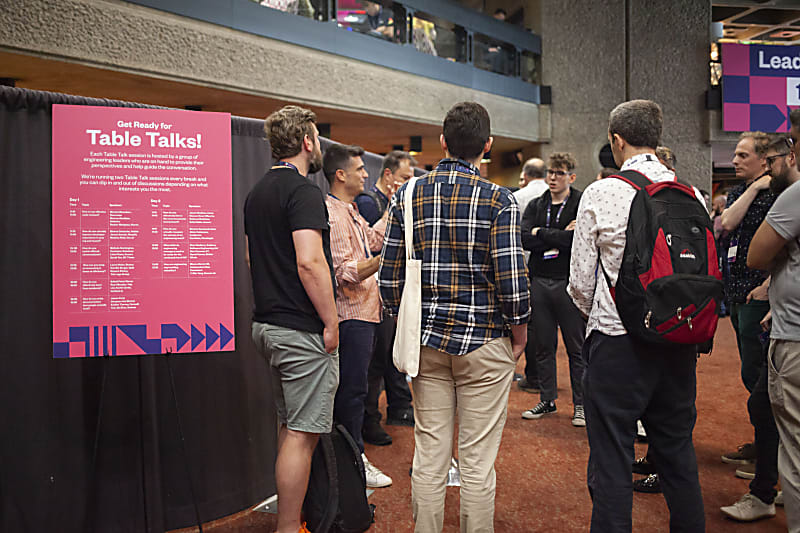 Table Talks
If 1:1 sessions are not for you, you can join our table talks! These roundtable discussions allow you to dive into some of engineering leadership's hottest topics alongside other attendees.
Each table talk session is hosted by a group of engineering leaders who will be on hand to provide their perspectives and help guide the conversation.
There will be two table talk sessions during each break, and you can dip in and out of the discussions depending on what interests you.
Speed Coaching
Get a fresh perspective and expert advice on any topic at this year's conference with our free 1:1 coaching with leadership coaches with years of experience founding, running and consulting successful tech companies.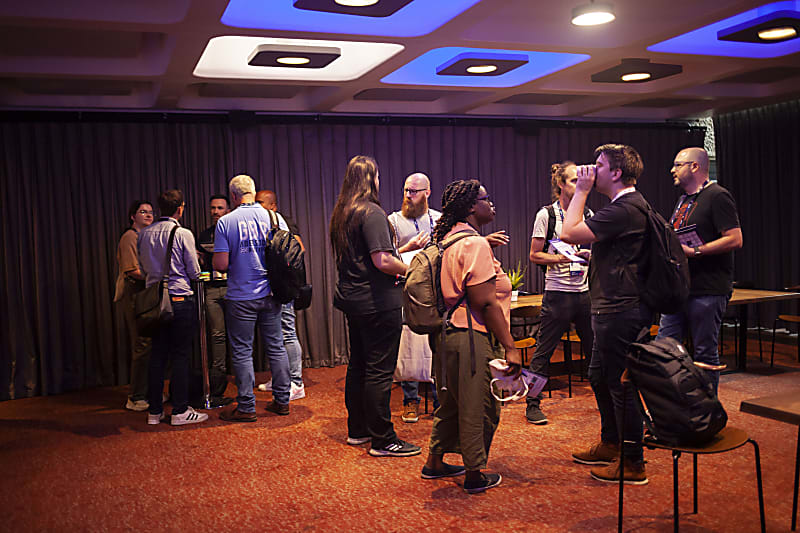 Voltron Quest
Connect with other attendees and spark conversations at this year's conference using our Voltron Quest, inspired by Lara Hogan's Manager Voltron. Every time you meet a new person, write their name on the grid to assemble your Voltron Quest.
Every attendee will be given a Leadership Voltron Quest grid in the welcome pack, and you will have the whole conference to fill it in.
Become a Contributor (AMA)
Want to contribute to LeadDev but don't know how? Then join the LeadDev content team in one of our relaxed 'ask me anything' (AMA) sessions where they'll be on hand to answer questions about how you can get involved.
Come along if you're interested in speaking on stage or writing an article for us - and we'll share the secrets of crafting winning speaker submissions and effective article proposals.
What is it like attending a LeadDev conference?

"This was my fourth time attending LeadDev. The things my co-workers and I have learned over the years at LeadDev have greatly influenced how we work and lead at Vinted. As one of us said this year - "it's the most useful conference I've ever attended."

Attended LeadDev London
"The content was great, with awesome speakers. I loved the setup in tables that allowed for discussions. The exercises were very interesting, and having a handbook with everything prepared inside to follow the conference made the day very smooth and productive."

Attended LeadingEng London
Florian Emoult
Agorapulse
Co-Head of Engineering
"I enjoyed the focus strictly on high-level individual contributors, and the ability to talk to and interact with other high-level ICs from other companies. I have no idea how I'm going to summarize all this to my coworkers."

Attended StaffPlus New York
Michael Abon
1Password
Staff Software Engineer
Get engineering leadership insights, news, events, and more from LeadDev in your inbox